Fansite Exclusive: Interview with Booboo Stewart!
Nov 2nd, 2011 | By
Stefanie
| Category:
Fandom
,
Featured Articles
,
Movie News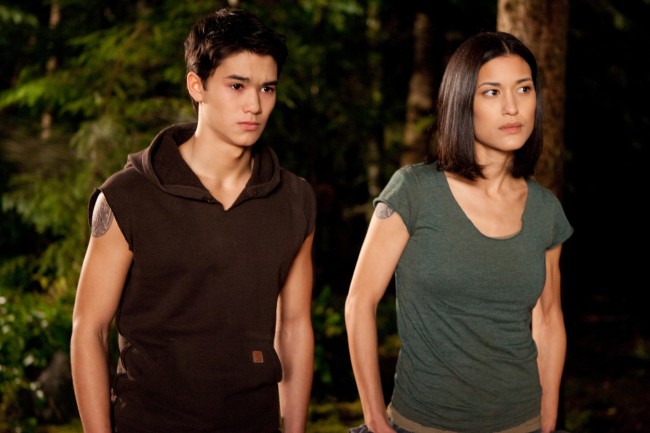 A couple of months ago, we, along with several other fansites, had the opportunity to chat with Booboo Stewart and Julia Jones about The Twilight Saga: Breaking Dawn Part 1. Below, you'll find our interview with Booboo, and be sure to check back with us at 10pm EST for our interview with Julia Jones!
Q: We've heard from several of the actors in the film about whose career they look up to; like Rob Pattison has mentioned Jack
Nicholson, Taylor Lautner has mentioned Tom Cruise. Is there someone's whose career you think 'Wow, that's something I'd really like to have 10 years from now?'
Booboo: I think Jim Caviezel and Heath Ledger. I think they always do different choices that people don't expect, and that's something I want to do. 
Q: We talked a little bit with Julia [Jones] about the dynamics of the shift change that goes through the wolf pack in Breaking Dawn, and you are such a friendly person and 'Seth' is such a friendly person . . . How was it for you to go from part of this family of the wolf pack to creating the us versus them feel that we get, especially from clips that we've seen that were shown at Comic-Con between the division of the wolf pack?
Booboo: I think it's not like us versus them, he just wants everybody to get along and I think that's what separates him from the rest of the wolf pack. doesn't care if you are a vampire or a human or a shape shifter, he just wants everyone to pretty much get along that creates a little controversy.
Q: How is it for you to work with soo many more of the Cullen cast mates this time around?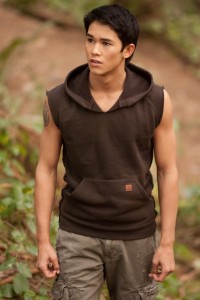 Booboo: It was awesome- everyone was really cool, we would just hang out, Jackson he's a really funny guy. We would just talk about music talking about like The Who and the Beatles. He's really into his music and so am I; we just chatted about music and stuff.
Q: Since this is the largest franchise you've ever done, I was wondering how it's helped you grow as an actor?
Booboo: It's definitely has helped a lot. It's definitely helped being on a set that big seeing how everything is done.  Obviously, I've been on sets before but nothing as big as Twilight. You forget sometimes that you're on set of one of the biggest movies ever- so when you just sit back and think about it its just so incredible. It's such a great learning experience.
Q: You just mentioned you talked with Jackson about music do you plan for you and your sister to take your music career on tour anytime soon? 
Booboo: Yes of course. In fact we just got back from Arizona for an organization called Child Help. They help children that have previously been abused. They've been doing it for over fifty years. I've actually learned that almost seven children each day in America die from child abuse. So, it was a really nice thing out there raising
awareness about this organization and performing for them.
Q:  During a recent fansite interview Bill Condon said that we get to see talking wolves this time around can you tell us about how that was translated onto screen?
Booboo: I actually haven't seen a lot. I saw a little bit of it, but I haven't seen the full edit of that- what I saw looked awesome. I think Bill Condon really has the right idea. He's just translated them from the book to the screen amazing wolves from what I've see. I don't think the fans are going to be disappointed at all. 
Q: Speaking of Bill Condon, what was it like for you – since the only other Twilight Saga director you've worked with was David Slade and obviously he's very different from Bill Condon – how much different was it for you stepping from Eclipse to Breaking Dawn with the two directors?
Booboo: It wasn't too bad for me because on Eclipse I only worked a few days, rather on Breaking Dawn I got to really know Bill and hang out with him, talk about movies with him, stuff like that. So, it wasn't that hard for me; I could imagine it was much harder for someone like Rob [Pattinson], who works with him every single day. I didn't get to really know David Slade, so it was pretty easy for me.
Q: As one of the younger actors on the set, you are incredibly grounded and personable . . . What helps you stay so grounded?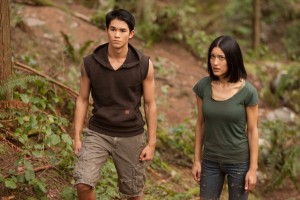 Booboo: My family definitely always being around me, my friends who are really supportive of me, I've had the same group of friends forever. I just try to stay relaxed and have fun with it. Try not to take things too seriously. It can go to your head a lot. I just appreciate everything, really.
Q: You had said in the past when you got to do Eclipse that you were so excited because Seth is part of the big final battle and then you realized 'Oh no, he's in wolf form.' This time around did you get to do any of the motion capture that we saw Taylor [Lautner] do a little bit in Eclipse. Did you get to do anything with some of the big battles?
Booboo: Unfortunately, no. As I said before, they all fight in wolf form, so I really wish I could have done that, but it's really nice Phil Tippett, he invited me down to his studio to watch them do the wolves. So I think I'm going to take a trip down to his place to see how it's done; he's so nice. So I might be a little more involved in it.
Q: You mentioned that your family is a big supporter and helps keep you grounded, and obviously the Clearwaters are a family unit in Breaking Dawn and Eclipse. How did you work with Julia to develop that family bond? 
Booboo: It was really easy. She's really nice, so it was easy to feel like she was part of the family, and also the lady that plays my mom, Alex Rice, she was really awesome too. Being around her, it was really easy to act like we were all a family they were really just nice people. 
Q: Speaking of co-stars, here's a reader question: Did Mackenzie Foy have a nickname for you, and what was it like working with
her?
Booboo: Does Mackenzie have a nickname for me? She was so funny, and I got to hang around her a lot. At our hotel we were literally neighbors, so we'd always go to lunch and they took us on a hike that was pretty awesome. Actually I'm cleaning my room today. She loves to draw, and she's really good at it, and I love to draw too so we would draw each other pictures. She drew me this picture that I found in my room that I'm going to hang up today. 
Q: What was it of?
Booboo: A bird; one of the birds outside of our hotel.
Q: You've mentioned the fact that you like that Seth gets to play both sides – he gets to spend time with the Cullens and with
the werewolves. Did you find that in filming that the dynamic between the wolf pack and then the Cullen family, filming on those sets felt different, and if you can, can you tell us anything about your favorite scene with Jake versus a favorite scene with Edward?
Booboo: I think everyone was pretty much the same . . . obviously not 'the same' but as a group everyone just hung out. There wasn't really any rivalry on set; everyone's just happy to be there filming the biggest movies. It was awesome to be a part of that.  As for favorite scenes, I really wish I could tell you a favorite scene, but I would lose a finger . . . And I want to keep my hand.
Q: This is a fan question . . . A lot of the wolf pack have done other projects together. We were just wondering if there is a
particular cast member that you would really like to do another project with at some point? 
Booboo: I'd love to work with Bill Condon again . . . our director. Working with him, no matter how stressful the situation was, he always seemed to be smiling. He would get so into every take. He was just a great guy to work with.
These fansites also participated in these exclusive interviews: