Reminder: 'Breaking Dawn' Cast On Ellen Friday!
Nov 17th, 2011 | By
Krystal
| Category:
Featured Articles
,
Movie News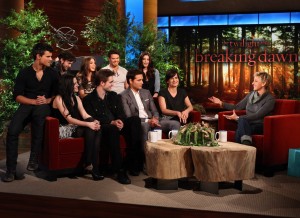 Ellen will have the cast of Breaking Dawn on her show Friday, November 18, with featured appearances by Rob, Kristen, Taylor, Kellan, Ashley, Nikki, Peter, Jackson, and Elizabeth!  Here is a sneak peek of the upcoming interview, as well as a couple of pics from the show.
Rob and Kirsten on filming their steamy love scene….
Ellen: How was that scene to shoot?  Was that awkward?  Was it like, you are so used to being around the crew and everybody that it's not that big of a deal?
Rob: The baby delivery or the baby making?
Ellen: The baby making.
Rob: There was a bit too much butt crack I think. That was one thing I know they cut out.  They didn't cut the shot or what ever they just cut the crack out.
Ellen: How do you cut the crack out?
Rob: They just painted over it.
Ellen: It makes you look like you don't have a crack.  They cover it so there is no crack on your butt? You just look like one solid cheek?
Rob: Yeah, you're allowed to show cheek. You can't show crack.