Day 7:'Thankful for Twilight' Give-A-Way! 'Bella Prize Pack'
Nov 18th, 2011 | By
Kallieross
| Category:
Book News
,
Contests
,
Fandom
,
Featured Articles
,
Merchandise
,
Site News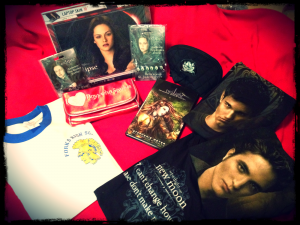 Congratulations to Etta M., today's 'Thankful for Twilight' winner!
Today Kassie is thankful that "Bella becomes a vampire…she is an annoying human…but a freak'n awesome vamp!"
Which book/movie do you like Bella most in and why?

Kallie~BD. (period)
Kassie~BD…hello, this is my "thankful"….she drives me crazy in the 1st 3!!!!
Krystal~BD.  I wanted to slap some sense into her in Eclipse.  Seriously.  But I liked her in Twilight, too.
Stefanie~A combination of Twilight + last half of Breaking Dawn… I can't say all of BD is my fave because I'll never be able to forgive Bella for originally wanting to name her kid "EJ". Blech.
The Bella Prize Pack Includes:
Twilight: The Graphic Novel Volume 1
Stephenie Meyer Autographed Bookplate
Bella Laptop Skin 10″
Bella St. Jude Bracelet
Bella's Moonstone Ring
'I love boys who sparkle' Clutch
Cullen Crest Makeup Bag
Bella Lotion and Scented Body Mist
Forks High School Tee (S)
Bella Quote Tee (XL)
Jacob Tee (XL)
Edward Tee (S)
*
To enter you must submit a Comment below, Tweet (Twitter.com – Mention @TSTPodcast) or Share (Facebook.com onTST Profile Page), answering the questions from above.  The contest is open INTERNATIONALLY, and a winner will be selected at random.  The contest will be open during the entire 24 hours of the day (November 19, 2011, Eastern Time).  Once the winner is selected they will be emailed, and given 7 days to respond to the email.