Bella's Wedding Dress Unveiled and Ready for Purchase!
Nov 21st, 2011 | By
Stefanie
| Category:
Featured Articles
,
Merchandise
,
Movie News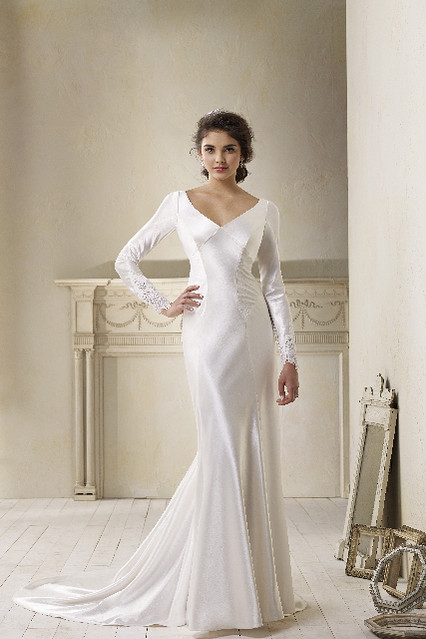 Alfred Angelo, the official designers of Bella's replica wedding gowns, have unveiled their version of the dress. Here are some details from the Wall Street Journal on the dress, price and how secretive the design process was:
There were millions of girls waiting for the premiere of "Twilight: Breaking Dawn." Wedding retailer Alfred Angelo is hoping at least of a few of them are old enough to marry.

The official replica of Bella Swan's wedding dress arrives in stores today, on the heels of a record-breaking opening weekend for the movie. Carolina Herrera designed the dress Kristen Stewart wears in the film.

Back in May, bridal retailer Alfred Angelo began working with Summit Entertainment to replicate the wedding dress in time for the film's November premiere, under a confidentiality agreement that designer Michael Shettel jokes was 'signed in blood.' The company, which used undisclosed code names for the Twilight dress project, limited its circle of principals involved to only about
four people, the designer said. Mr. Shettel was also invited to the Los Angeles movie set to view the original dress.

The 'Bella' dress shipped secretly to stores, with photos and inventory unveiled today.

The gown, which retails for $799 at Alfred Angelo stores nationwide, features long lace-trimmed sleeves, a Chantilly-inspired lace applique trim and a plunging cut-out illusion back. While the cinematic gown is in silk, the replica gown uses liquid satin. 'The stitching on the bodice is the same, and the lace detailing is similar,' Mr. Shettel says. 'There were pricing issues to try to get it down to $799. That was the biggest issue more than design issues.'
You can check out the dress on their website: AlfredAngelo.com. Anyone have plans to purchase Bella's dress?