The Survivors Music Video Debut
Nov 22nd, 2011 | By
Kallieross
| Category:
Book of the Month
,
Contests
,
Featured Articles
,
Music
,
Videos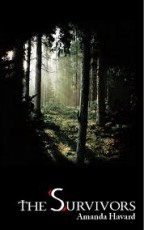 We are so excited to be the first to bring to you Amanda Havard's new music video to accompany our Book of the Month, The Survivors! Check out what Amanda had to say all about it below, and then check out the video! Also, don't forget to enter our contest to win a signed copy of The Survivors and a swag bag full of goodies! You can check that out here!
As I said in my interview, one of my favorite parts of this project has been all the weirdly cool opportunities I've gotten to take part in— like the creation of original music for the series.
Today, here on Twilight Series Theories, I'm totally excited to share with you the third in our series of original Survivors songs, "Who YouAre." Each song I've written so far with co-writer and producer, Deanna Walker, has had a different feel to them and a different process by which they came to be. For the first, "Pretty Girl," recorded by Chris Mann (a warbler on Glee!), we took the bones of a song I wrote years ago while I was actually writing the book and made it into something much greater and much more powerful. It was tons of fun to see the transformation of strung-together half-lines and chords I'd written years ago into something that set the tone for the music in the series. All that time ago, there was a handwritten line in a music notebook that's now echoed in Chris's haunting performance and embodies the quintessential question: Pretty girl, what did they do to you?
Then there was "Breaking," which Canadian powerhouse Jess Moskaluke recorded and blew all of our minds on. The process of "Breaking" was entirely different. It was deep conversations in coffee shops and in car rides, apart and together, that brought Deanna and I to ask a very specific question that our immortal heroine, Sadie, must ask herself. "Breaking" is about finding the questions at Sadie's soul. At first, we wondered simply Can a heart learn to beat? But later it became clear that the real question was not only of possibility but one of risk. The burning, terrifying question, for the still-hearted immortal who's beginning to find her way to love is really Can a heart learn to beat without breaking?
And now there's "Who You Are," which stemmed directly from an actual conversation in the book between Sadie and Cole, the human whose eye she has caught. In our story, Cole is perpetually offering something to Sadie — a shoulder to cry on, a listening ear, a taste of normality, a way out — but our dear Sadie isn't so great at taking what's given to her. He says it simply at the very beginning: He wants to know who she is. She doesn't know how to let anyone know that, and because of it, I wonder if the two will ever be able to reach each other.
We're so excited to debut "Who You Are," a duet sung by the inimitable Patrick Thomas (from The Voice) and Jenny Gill here at Twilight Series Theories. Patrick and Jenny are two amazingly talented performers at the beginning of their solo careers, and it was a true joy to have them bring their super voices to the project. And look out for our Sadie and our Cole in this video as they both made huge contributions to this project before the cameras ever began to role. Sadie — known in our real world as Tiffany Vartanyan — is actually a co-writer on this song, and Cole — otherwise known as Grant Harling — is a talented young actor who I've known since high school, and may or may not have been the original inspiration for the careful, beautiful gentleman I had in my head when I created Cole Hardwick.
I hope you enjoy!
Amanda