Day 8: 'Thankful for Twilight Give-A-Way' Jacob Prize Pack!
Nov 23rd, 2011 | By
Kallieross
| Category:
Contests
,
Fandom
,
Featured Articles
,
Merchandise
,
Podcasts
,
Site News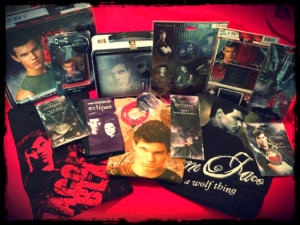 Congrats to our winner Lina!
~
Today Kassie is thankful that they cast Taylor Lautner for the role of Jacob…"Makes me think for a second that I could actually like Jacob! ….not for long though…Team Edward all the way!!!!"
What do you like best about Taylor Lautner (or Jacob)?

Kallie~ I love Taylor's great personality, and the fact that he could karate chop something for real!
Kassie~ He smiles all the time, great interview, and SHIRTLESS= yummy!
Krystal~I like that Taylor's always a good sport and a good interview. I don't like him in any fangirly way because…well, he's still a baby to me.  But a nice kid.  God, now I sound old!
Stefanie~Taylor's always so cheerful.
~
The Jacob Prize Pack Includes:
Jacob Tin Lunch Box with thermos
Jacob Jelly Bangles
Jacob Clip watch
Team Jacob Bag Clip
Jacob Script Heart Necklace
Team Jacob Locket Necklace
Eclipse Jacob/Bella Makeup Bag
N-DS Skin
8-Piece Magnets
3G iPhone Cover
Jacob Eclipse Laptop Skin 10″
Jacob Black Tee L
New Moon Jacob (brown) XL
Team Jacob Tee 3x
~
*
To enter you must submit a Comment below, Tweet (Twitter.com – Mention @TSTPodcast) or Share (Facebook.com onTST Profile Page), answering the questions from above.  The contest is open INTERNATIONALLY, and a winner will be selected at random.  The contest will be open during the entire 24 hours of the day (November 22, 2011, Eastern Time).  Once the winner is selected they will be emailed, and given 7 days to respond to the email.