Christopher Heyerdahl Teases What to Expect from the Volturi in "Breaking Dawn Part 2"
Nov 29th, 2011 | By
Stefanie
| Category:
Featured Articles
,
Movie News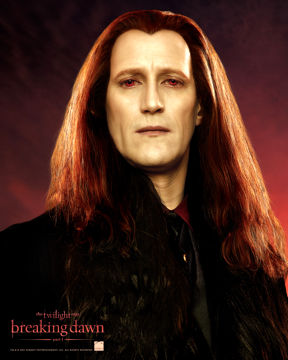 Collider interviewed Christopher Heyerdahl, and of course, the subject of Twilight came up. Chris talks about what we can expect in Breaking Dawn Part 2, and he goes on to talk about working with Bill Condon, and whether or not he knew what he was getting into when he signed onto the franchise. Read the rest of the interview at Collider.
What can audiences look forward to with Breaking Dawn – Pt. 2, in regard to your character and the Volturi?

HEYERDAHL: That's always a difficult question to answer because I don't want to put out any spoilers, but everyone's read the book, so I think it's relatively safe. There are some things that have come into the story, that are alluded to in the book, but aren't necessarily expressed in word. They're expressed in idea, in the book. Some of those things will be brought to fruition, visually, which was a lot of fun. It's always fun to see a thought or an idea come to fruition. It's almost like going into the mind of a character. You get to go along there, which is a wonderful thing for film. On stage, you can never really go into the mind of a character. You just follow along with a scene. Whereas with film, you can actually dive right inside. So, some of those events have been brought to life.

You definitely see a lot more of us. For the lovers of the Volturi, that's going to be a positive thing. We certainly come in with our large wooden spoons and stir it up. I don't think anyone will be disappointed by where the Volturi goes, and the aftermath. We really are a fun group of evil-doers. The interesting thing is that you've got this wonderful, complicated triumvirate of so-called brothers, who each have a different agenda, and you get to watch them try to ignite or ignore or tease or play with each other. You can only imagine that, when you're hanging out for thousands of years, you're going to get to know your partners quite well. A lot of times, each one of them tries to poke their fingers into their neighbor's hornet's nest to watch what happens. A little bit of that goes on, and there's a lot of subtle pleasures that come out. You just get to see those relationships brought out a little bit more, in the second half. It's good fun.
Photo: Creation Entertainment