Where Books Are Headed?
Dec 8th, 2011 | By
Kpsimmon
| Category:
Book News
,
Featured Articles
,
Videos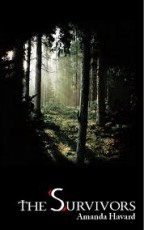 Last Month's Book of the Month author, Amanda Havard, and the company, Chafie Creative, have finally made known what their Secret Project is all about! We're wondering how this is going to change the book world from here on out! Read more about it and then let us know what you think in the comments section below!
CHAFIE CREATIVE GROUP UNVEILS IMMERSEDITION, THE FIRST EVER CONSUMER, TRANSMEDIA EBOOK APP FOR FICTION
Dallas-based Chafie Creative Group, LLC, announced today its revolutionary app for Fiction, Immersedition*. Extraordinarily more than a regular or even enhanced eBook, the pilot Immersedition, The Survivors Series, authored by innovative transmedia storyteller Amanda Havard, has been crafted specifically to embrace the possibilities of interactivity inside a novel. In its print form, Havard's book encapsulated specific detail to place and person, anchoring its surreal premise in a very real world, making the interactive transmedia nature of the Immersedition concept the perfect platform for her story. In its print form, The Survivors is a 283-page book, but in its app version, there are over 300 touch-points that call up over 500 frames of relevant additional content embedded in the pages of the book.