Breaking Dawn Part 1 Hits a Series Best of Over $700 Million
Jan 24th, 2012 | By
Stefanie
| Category:
Fandom
,
Featured Articles
,
Movie News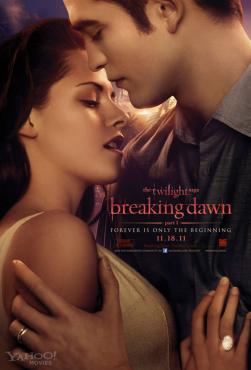 The Hollywood Reporter is reporting that Breaking Dawn Part 1 is poised to hit $710 million in worldwide box office totals. Once this happens, it will officially be the top-grossing Twilight film ever.
Summit Entertainment and its new parent compnay Lionsgate announced Sunday that The Twilight Saga: Breaking Dawn–Part 1 will soon overtake the $709.8 million earned by The Twilight Saga: New Moon to become the top grossing title in the franchise.

(…)

The news went out on Lionsgate letterhead, and marks the first official Lionsgate-Summit release.

Through Sunday, Breaking Dawn has earned $701.3 million globally. It has yet to open in Japan and China.

Domestically, the pic has grossed $280.3 million, putting it behind threequel The Twilight Saga: Eclipse ($300.5 million) and sequel New Moon ($296.6 million).

Conversely, Breaking Dawn is already the franchise's top earner overseas, where its running cume is $421 million. The previous best was the $413.2 million earned by New Moon.
What stands out the most to me is that due to its early DVD release this film will have been in theatres, at least in most countries including the US, for a shorter amount of time than the three previous films and yet it has done better at the box office! Craziness. And critics said the fan fervor was dying out. Commence eye-rolling.