The Taker by Alma Katsu
Apr 23rd, 2012 | By
Kallieross
| Category:
Book News
,
Book Reviews
,
Featured Articles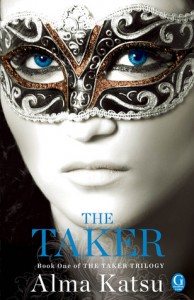 How do I begin to explain my inner discord after reading The Taker, by Alma Katsu?  At present I am curious, fascinated, and inveigled by the novel.   Alma Katsu has created a world where time is irrelevant, and you get a glimpse of the life of an immortal. The main character, Lanore, seduces you and weaves a story from the past that makes you question the benefits of this gift. While Lanny's present circumstances seem impossible, the narrative of her tragic past reveals that she has experienced an iniquitous life.
I must admit that while Lanore's past troubled me, I was entranced with the twists and turns that her life took. She begins her life in a small Puritan town called St. Andrew, where the logging industry was at it's peak, in Maine.  Lanore finds herself in an unbecoming situation, and is sent away to Boston.  The big city seemed like a new start for her, but she was quickly seized by Count Adair, and his cohorts.  I was peculiarly charmed, like Lanore, by devious characters including Jonathan St. Andrew and Count Adair.
The one place I felt the novel lacked was in the 'present day' settings.   Dr. Luke Findley is Lanore's hero, when he rescues her from the police.  His backstory didn't seem to mesh well with the risky choices he makes, and his scientific occupation led me to believe he should be more discerning about Lanore's past.  I found Luke likable, but I wanted him to be more lovable.
The Taker was a mind game from the start of the story, past and present, and the game is still being played!  The second book in the trilogy is being released in June, and I can't wait to see what happens to Lanore!  If you love The Outlander Series and Interview with a Vampire you will love The Taker.  I give The Taker, by Alma Katsu, 4 books on the bookshelf.
And, as a treat, Alma sent me this swag 'from Adair'! *waggleseyebrows*
Book Description:
Critics and authors were spellbound by Alma Katsu's debut novel, The Taker, her stunning tale of a mysterious young woman, Lanore, and an unwitting Maine doctor who falls into her world, a hidden world that exists outside the boundaries of time. In this magical realm, where the predatory use pleasure to corrupt the innocent, Lanore's incredible devotion to Jonathan, her first, true love, captures the attention of Adair, the dangerous man who rules this world, and ignites within him an all-consuming desire to possess her.
"Alchemy and love prove a volatile mix in Katsu's vividly imagined first novel, which toggles between the present and the past. While working the graveyard shift at a rural Maine hospital, Dr. Luke Findley discovers that patient Lanny McIlvrae has miraculous self-healing powers. Lanny then relates the incredible tale of her life: sent packing to Boston by her family in 1817 to give birth to her illegitimate child, she fell in with the entourage of Count Adair, a centuries-old alchemist who saved her life with an elixir of immortality. Decadent and domineering, Adair took Lanny as his mistress–a role she accepted until Adair's scheme to use her true love, Jonathan, to perpetuate his unnatural existence forced her to a desperate ruse to thwart his formidable magic powers. Katsu shows considerable skill in rendering a world where Adair's unspeakable evilness and Lanny's wild passion make the supernatural seem possible. The result is a novel full of surprises and a powerful evocation of the dark side of romantic love." —Publishers Weekly
Read the first chapter (PDF)