GRAVE MERCY-The Question
Jun 23rd, 2012 | By
Kpsimmon
| Category:
Book of the Month
,
Featured Articles
,
Question of the Week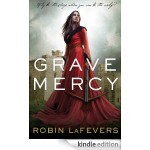 This month's Book of the Month is GRAVE MERCY by Robin LaFevers, and I have a question to put forth for the other reviewers AND you, our blessed readers! Now, I'm going to warn you…this question may come across as a bit gruesome for some of you to think about, but….I'm going to ask it anyway. You might really need to dig down deep to your darker side in order to answer it.
So…I want to know-If you were to become a Handmaiden of Death, what would your form of killing be? Poisons, knives, stilettos?? How would you handle having this job?
That's it!! Think outside of the box, and enjoy getting to giggle at your darker self for a while!
You can check out some of our reviews of GRAVE MERCY Here!