The July Book of the Month Is… "The Name of the Star"!
Jul 1st, 2012 | By
Stefanie
| Category:
Book News
,
Book of the Month
,
Book Reviews
,
Featured Articles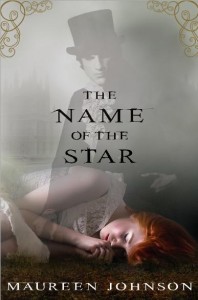 Our July Book of the Month is The Name of the Star by Maureen Johnson. It is book one in the Shades of London series, and Hollywood Crush has the sequel, entitled The Madness Underneath, listed as coming out February 26, 2013! The Name of the Star has ties to Jack the Ripper so, of course, it has those creepy elements to it. And if you're one for murder-mysteries then this book is definitely one you should add to your to-read pile!
Go HERE to watch Kallie's and my vlog reviews (we have one key thing in common in our reviews–our love of the American/Brit dynamic)!
Book Description:
The day Louisiana teenager Rory Deveaux arrives in London marks a memorable occasion. For Rory, it's the start of a new life at a London boarding school. But for many, this will be remembered as the day a series of brutal murders broke out across the city, gruesome crimes mimicking the horrific Jack the Ripper events of more than a century ago. Soon "Rippermania" takes hold of modern-day London, and the police are left with few leads and no witnesses. Except one. Rory spotted the man police believe to be the prime suspect. But she is the only one who saw him. Even her roommate, who was walking with her at the time, didn't notice the mysterious man. So why can only Rory see him? And more urgently, why has Rory become his next target? In this edge-of-your-seat thriller, full of suspense, humor, and romance, Rory will learn the truth about the secret ghost police of London and discover her own shocking abilities.
Book Trailer:
Author's site: maurenjohnsonbooks.com
Twitter: @maureenjohnson