August's Book of the Month: Rift by Andrea Cremer
Aug 6th, 2012 | By
Kallieross
| Category:
Book News
,
Book of the Month
,
Book Reviews
,
Fandom
,
Featured Articles
,
Site News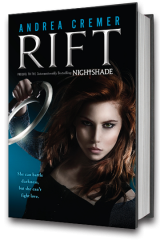 This month I am challenging you to read Rift by Andrea Cremer.  I recently read and reviewed the novel, and I think you will love it!  While reading, I thought about how the story of the adventurous redhead, Ember, reminded of a more mature Merida, from Disney's Brave.  The prequel to the Nightshade Series answers questions about Cremer's world and war began.  In addition, there is still more to look forward to… Rise the second prequel will be released in January 2013.  Whether you've read the Nightshade Series or not, I believe you will love this story.
Book Synopsis:
Chronicling the rise of the Keepers, this is the stunning prequel to Andrea Cremer's internationally bestselling Nightshade trilogy! Sixteen-year-old Ember Morrow is promised to a group called Conatus after one of their healers saves her mother's life. Once she arrives, Ember finds joy in wielding swords, learning magic, and fighting the encroaching darkness loose in the world. She also finds herself falling in love with her mentor, the dashing, brooding, and powerful Barrow Hess. When the knights realize Eira, one of their leaders, is dabbling in dark magic, Ember and Barrow must choose whether to follow Eira into the nether realm or to pledge their lives to destroying her and her kind.
Review of RIFT!
Review of WOLFSBANE!
Review of BLOODROSE!
For more on the Nightshade Series, check out NightshadeNexus.com or NightshadeBook.com!