New Face Friday: Marlane Barnes/Maggie
Sep 7th, 2012 | By
Kallieross
| Category:
Fandom
,
Fansite Fridays
,
Featured Articles
,
Movie News
,
Site News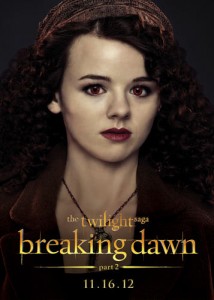 Here is the latest New Face Friday interview with Marlane Barnes, who plays Maggie from the Irish Coven!
Q: Your character Maggie knows when people are telling lies. Are you good at telling when people are lying to you in real-life?
Marlane: I like to think I'm a pretty good judge of character now. I feel like that's one of the things that acting has done for me is you get to see when people are acting.
Q: Did Stephenie Meyer talk with you at all about your character?
Marlane: You know, I actually didn't talk much with Stephenie about my character on set, I know that Lisa [Howard] did, but yeah I didn't really get a chance to do that. I was interested that when I read the – cause you know she put out that comprehensive fan book – and I was interested to see that a lot of the choices I had made for Maggie were pretty similar to what she already had in mind, so I feel like we just kind of both knew… that we were on the same page.