The Survivors: Body & Blood Cover Reveal
Mar 20th, 2013 | By
Kallieross
| Category:
Book News
,
Book of the Month
,
Fandom
,
Featured Articles
,
Site News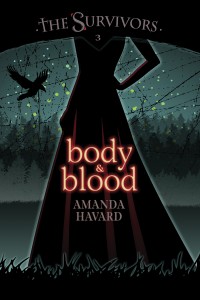 ABOUT THE SURVIVORS: Body & Blood
The game has changed.
Fresh from her first brush with mortality, a fragile Sadie Matthau is playing human with Cole Hardwick while the Survivors endure unimaginable tragedy. Wrought with the first deaths of their own kind, a tyrant who will torture them, and an opponent more terrifying than anyone could have foreseen, the Survivors are facing their end.
Told from three points of view, The Survivors: Body & Blood is a bloodcurdling, mind-bending, heart-stopping ride. As Sadie and the Winters uncover more enemies, more history, and more answers, they find themselves brought closer together and ripped further apart. And all the while, a haunting Alexander Raven lurks at the edge of Sadie's lifeline, at the darkening fringes of her mind.
As the Survivors descend into chaos, Sadie realizes a painful truth: the deepest of secrets leave the darkest of marks.
Caught between a terrifying fantasy and her own grim reality, Body & Blood is the story of Sadie's dance with her demons, future, past, and present.
ABOUT AMANDA HAVARD
Amanda Havard has been telling stories since before she could write. She grew up in Dallas, Texas, where her first book was published in her elementary school library at age 7. She received bachelor's and master's degrees in education from Vanderbilt University. She currently resides in Nashville, Tennessee with her baby grand piano and more story ideas than she could tell in one lifetime.
LINKS:
Twitter
o   www.twitter.com/amandahavard
o   www.twitter.com/survivorsseries
o   www.twitter.com/sadiestravels
o   www.twitter.com/blondelouboutin
o   www.twitter.com/thegrneyedmnstr
Facebook
o   www.facebook.com/amandahavard
o   www.facebook.com/thesurvivors
YouTube
Goodreads
Pinterest
Tumblr
Websites