Eclipse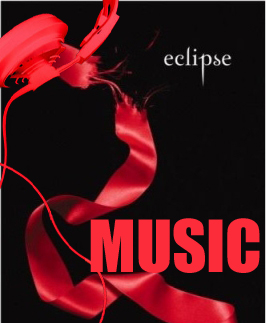 This is a page dedicated to the the songs that remind us of Eclipse! Also to see Stephenie Meyer's playlsit for Eclipse, click here!
-Lost, Faith Hill
-Your Guardian Angel, Red Jumpsuit Apparatus
-Permanent Monday, Jordin Sparks
-Pressure, Paramore
-All or Nothing, O-Town
-All Around Me, Flyleaf
-Seventeen Forever, Metro Station
-Something Beautiful, Newsboys
-Hero, Enrique Iglesias
-Love Song Requiem, Trading Yesterday
-I Will Be, Leona Lewis
-My Last Breath, Evanescence
-Little Favours, KT Tunstall
-Vampire Heart, H.I.M.
-Hands Down, Dashboard Confessional
-Fall For You, Secondhand Serenade
– Sunsets and Car Crashes, The Spill Canvas
-Head Over Feet by Alanis Morissette
[HTML1]