'Twilight' Tuesday: Anna Kendrick Asks If We've Heard Any Good Gossip Lately
Oct 21st, 2008 | By
Krystal
| Category:
Featured Articles
,
Movie News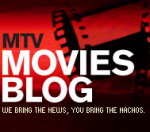 You can see MTV's interview with Anna Kendrick in their video and article.
"MTV: And you also have a bit of a crush on Edward as well, right?
Kendrick: Yeah, and it's easy to get googly eyed at Rob [Pattinson], because he is so dreamy. [In the one scene] where we really interact, Angela and I are supposed to be "dazzled" by him — that was the word in the script. It was really fun, and I think it was my last night of shooting. It was hard not to laugh the entire time, because to really play up that googly eyed, dazzled thing felt really funny.
MTV: What did you do to depict it?
Kendrick: Rob kept giving me this look that was his "charming" smile, but I thought it was his "I'm about to laugh" smile, which would make me laugh, but it actually ended up working because essentially it was uncomfortable laughter, and it made sense that I would be fighting these almost, like, church giggles."