'Breaking Dawn' Filming Wrapped…Or Has It?
Apr 19th, 2011 | By
Stefanie
| Category:
Featured Articles
,
Movie News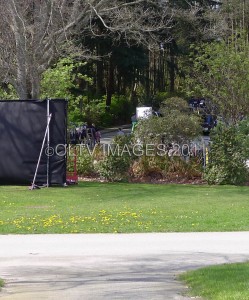 It's been an interesting few days, at first everyone thought that filming had wrapped completely on Breaking Dawn on Saturday.  Shoot, Bill Condon was even spotted leaving Vancouver!  But then some of the actors, like Noel Fisher and Guri Weinberg, started tweeting that they were heading back to Vancouver to finish up their scenes.  Turns out that second unit filming has not wrapped.  Newsflic blog has some info on what second unit was shooting and who all was on set yesterday.
I was able to watch Kristen Stewart as long as I didn't take out my camera.  She arrived with John her assistant and her personal protection team.  There was a set containment woman who spent at least 2 hours wrapping up the set so no one can watch what was going on.  There were at least 12 set containment day workers to patrol the woods and park and prevent people from taking photographs.
Kristen arrived, did her work and left after 45 minutes. They were so concerned with someone taking a photo, they had someone ride on the treadmill with Kristen holding an umbrella.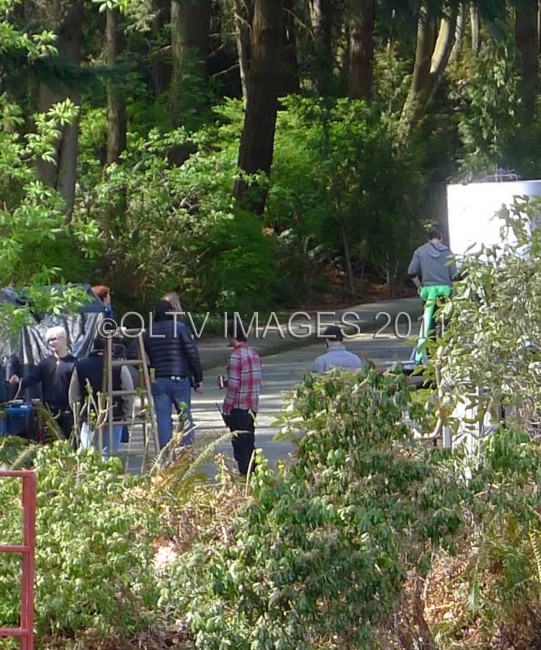 Kellan's stunt man
Go here to read the rest and to see more pictures.
There are pictures floating out there in the ether of Kristen, in costume as a vampire on the vampire treadmill, along with pictures of Guri and Noel in costume, but we won't be posting those here.  Want to see the pics? "You can Google it." 😉
According to Twilight Takes Over Baton Rouge, second unit will be finished filming at the end of this week. Krystal and I were talking about this the other day and she made a great comparison: this are they done filming or aren't they is just like the four or five false endings that happen at the end of Return of the King! <—LoTR Nerds are us.