It's the Shoot that Keeps on Going: New Honeymoon Scenes Shot in the Virgin Islands!
Apr 26th, 2011 | By
Stefanie
| Category:
Featured Articles
,
Movie News
————————————————-Spoiler Alert————————————————–
Over the weekend, Kristen Stewart, Robert Pattinson, and Bill Condon headed to St. Thomas in the U.S. Virgin Islands to shoot additional scenes for Breaking Dawn. According to TTOBR, who are pretty much always spot-on with their info, these were not reshoots like so many are claiming.  They are additional scenes for the honeymoon, and from the pictures below, you can tell which scene in particular it is. 😉 We here at TST are guessing that the reason Kristen's bathing suit is bright green is so that it can be digitally edited out in post-production to make her appear as though she's nude.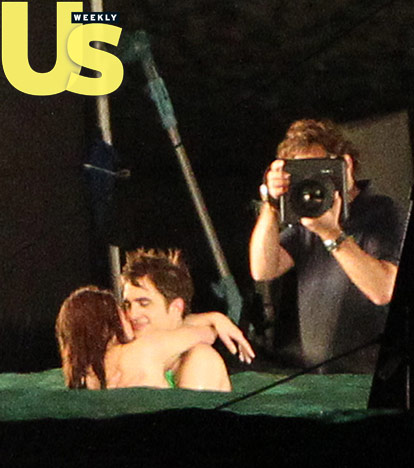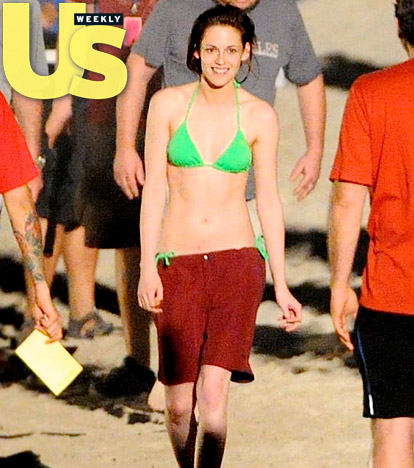 The photos are from US Weekly, go here to read the article and here to see the rest of the pics!  The Virgin Islands Daily News has an article that discusses the $1 million impact the night shoot had on the local economy.  Pretty incredible amount of money for one day of shooting!  The article does state though that there was about a week's worth of prep that went into the shoot.
Lastly, in an interview with MTV, Peter Facinelli said that he's still got two weeks of second unit shooting left.  So, no, Breaking Dawn ain't over just yet!  It remains to be seen if there will be any reshoots. Though, from what I've learned since being in the fandom, there are usually reshoots. So we'll just have to wait and see! Or not see, if security is super intense the way it's been for most of the Breaking Dawn shoot! Haha!
Photos: Splash News, National Photo Group
Economic article: via @RobPattzNews