Twilight Fansite Exclusive with Bill Condon… Talking The Twilight Saga: Breaking Dawn
Oct 24th, 2011 | By
Kallieross
| Category:
Fandom
,
Fansite Fridays
,
Featured Articles
,
Movie News
,
Podcasts
,
Site News

Yes, you read that right!  While I was in LA, in June, for the MTV Movie Awards, I was also able to spend some time with Bill Condon!  Condon is the director of The Twilight Saga: Breaking Dawn Part 1 & 2, and as you can imagine there are a lot of questions we all have about the book being transformed into two movies.  Later this afternoon (6pm Eastern) we will be releasing half of the interview, and you can read the final portion tomorrow. The experience was shared with a few other Twilight Fansite Admins, and we were prepared to discuss every aspect of the adaptation.  The questions we prepared ranged from Condon's experiences working with the actors on set to the music that was selected for the soundtrack.
The day started out with a great group of Twilight Fansite administrators meeting up and working on questions.  We piled into a large black van like we were a SWAT team preparing for a mission.  Instead of bullet proof vests and machine guns, we were decked out with digital audio recorders and notepads.  We finished cross-checking questions and found ourselves at the editing studio early.  Starbucks was directly across the street, and we all needed some coffee…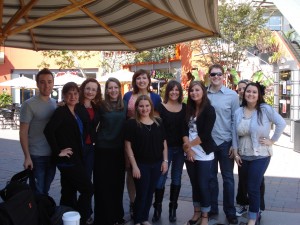 After a quick shot of espresso, we were all excited to see what Bill Condon and his crew had prepared for us.  We were dropped off at the studio and led up to a second floor editing room.  It was not what I had expected, but to see where the 'magic happened', and who was behind it all  was surreal.  A couch and a few random chairs sat around a large flat screen television, and we were treated to short snippets of two scenes from The Twilight Saga: Breaking Dawn Part 1.  I am not at liberty to say what we saw, but it was fantastic to see a little of the film and what progress they had already made, as well as the trailer.
Following the preview, we were able to express our reactions and thoughts to Bill, himself.  We discussed some things we saw in the clips that were 'just like the book' and 'exactly what I pictured' moments.  Then we were allowed to ask 'the' BILL CONDON questions about his experience filming The Twilight Saga: Breaking Dawn Part 1.  We asked about… playing with new dimensions in the film that have not been explored in previous films, Stephenie Meyer's cameo, choreographed dance numbers, and more!  After the interview was over we reluctantly made our way to the front of the building for a group picture (seen at the top of the page).  As we piled back into the van, and made our departure, I remember all of us being overwhelmed by the experience and the information we had been entrusted with.
You will be able to read the first part of the interview this evening at 6:00 pm Eastern (5 pm Central, 3 pm Pacific), and then the entire interview will be released tomorrow, Tuesday, October 25th, at Noon Eastern (11 am Central, 9 am Pacific).
We look forward to bringing you this amazing fansite exclusive with the following Twilight fansites:
To read more about my weekend at the MTV Movie Awards…
Top 10 List of Most Entertaining & Maddening Things That Happened in L.A. Last Weekend