"Breaking Dawn-Part 1: Extended Edition" & "Breaking Dawn-Part 2" DVD Break Down Guide!
Feb 28th, 2013 | By
Krystal
| Category:
Fandom
,
Featured Articles
,
Movie News
This past weekend, the lovely people over at Lionsgate invited some of the Twilight fansites out to Santa Monica to screen the extended edition of "Breaking Dawn-Part 1," as well as some of the special features for the DVD release of "Breaking Dawn-Part 2."  We were sent home with all of the different versions of the DVD (or Blu-ray), and I spent many happy hours going over the special features.  Hopefully this DVD break down will make your buying choices a bit easier this Friday night 🙂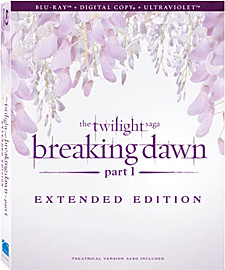 "The Twilight Saga: Breaking Dawn-Part 1, Extended Edition" DVD
The extended edition of "Breaking Dawn-Part 1" will be available on March 2nd, the same day as "Breaking Dawn-Part 2," and is available as a single-disc DVD or Blu-ray.  Walmart is exclusively offering a two-movie set, which includes both the extended edition and "Breaking Dawn-Part 2."  Both versions include digital copies, as well an Ultraviolet code to stream it from your various devices.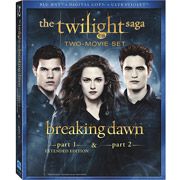 While the extended edition doesn't come with any of the special features included on the original DVD release of part 1, it does contain eight minutes of new and extended scenes cut right into the movie, as well as a new commentary with director Bill Condon.  I'll be talking a little bit about these new scenes in the section below, so…
Spoiler alert!
Let's face it: if you're a major Twilight fan, you'd be happy with ANY extra screen time, even if it's only seconds.  Having eight extra minutes is, for me, like icing on the cake.  Those extra minutes may not change the story, but it adds so many fantastic details that fans of the books will love.  One of the new scenes actually creates an entirely new beginning to the film, which starts off with Aro and the Volturi receiving word of Bella and Edward's upcoming wedding.  It's a nice bookend to the end scene that we've come to know, with Aro vowing to go after the Cullens in part 2.  Other footage included in the extended version are a honeymoon morning-after scene between Bella and Edward, Jacob throwing the dog bowl at Rosalie ("You. Got. Food. In. My. Hair!), and Edward flipping out and breaking Jacob's arm after learning that he imprinted on his daughter.  There's also a really nice scene with Alice and Jacob out on the Cullen's balcony, with Alice noting how standing next to him is like closing her eyes, allowing her to have a moment of peace.
Is owning the extended edition a necessity?  It really depends on how fanatical you are about the series.  For me, now that I've seen these extra scenes, it's going to be hard for me to watch the movie without those extra minutes.  Like I said, it doesn't change the storyline, but just adds some great book-related goodies.
"The Twilight Saga: Breaking Dawn-Part 2"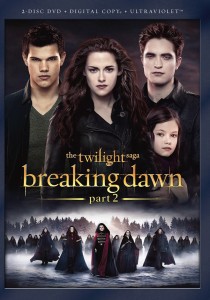 The standard version of "Breaking Dawn-Part 2" comes as a 2-disc DVD set, which includes a digital and Ultraviolet copy, and includes the following special features:
The cast and filmmakers take you behind the scenes in a 7-PART MAKING-OF DOCUMENTARY and show you what it was like to shoot Breaking Dawn – Part 1 and Part 2 back to back in TWO MOVIES AT ONCE. Get even more insight into the film with director Bill Condon's AUDIO COMMENTARY, or just watch your favorite scenes with the JUMP TO EDWARD and JUMP TO JACOB features.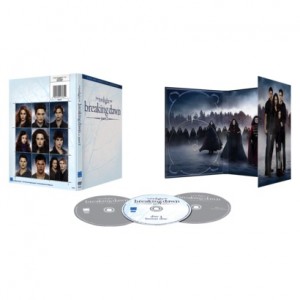 Target Edition
 Target is the only retailer in the US to have exclusive content on their version, which includes all of the special features mentioned above, as well as a third disc of bonus material (on DVD or Blu-ray, above).  It, too, includes a digital and Ultraviolet copy, and contains the following exclusive bonus features:
EXCLUSIVE BONUS DISC
52 minutes of content that you can get ONLY at Target, along with hours of additional behind the scenes special features.
In this bonus content, the cast discusses special vampire powers in TINGLES AND CHILLS, the Volturi in JUDGE, JURY & EXECUTIONER, and the new vampires in CARLISLE'S CONTACTS. Watch how Bella and Charlie's relationship evolved in BEING CHARLIE SWAN and feel the excitement from the 2012 COMIC-CON and THE WORLD PREMIERE with the cast and fans!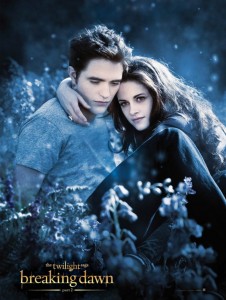 As an added bonus, if you pre-order the movie at Target.com, you will also receive a free poster featuring Bella and Edward (pictured above).
Best Buy Edition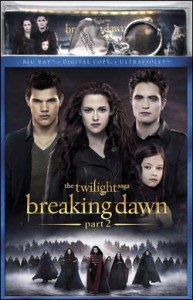 While there are no extra special features on the Best Buy edition of the film, they are offering a free BD2 key chain when you purchase the Blu-ray ($22.99).
Best Buy will also be offering the five-film set on Blu-ray, which you can order for $44.99.
Barnes & Noble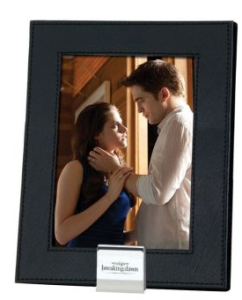 Barnes & Noble will be offering the standard version of the film, but with a free photo frame featuring Edward and Bella as a gift ($21.69/DVD, $27.99/Blu-ray).
There you have it!  So, what will you all be doing for the release of the final Twilight film?  Will you be attending any midnight release parties?  And which version do you plan on purchasing for your collection?
(Select stores across the country will be holding special movie release parties.  Click here to find a midnight release event in your area!)
Big thanks to Lionsgate/Summit for the lovely goodies!